Le but ultime de la musique et de tout art véritable est de nous faire prendre conscience que nous avons une âme et qu'elle est immortelle
The ultimate goal of music and all true art is to make us aware that we have a soul and that it is immortal
The very essence of music is tragic. My music, indeed, stages the human condition and attempts to give birth to hope not by denying despair but by overcoming it
L'essence même de la musique est tragique. Ma musique, qui met en scène la condition humaine, tente de faire naître l'espoir non pas en niant le désespoir, mais en le surmontant
Nicolas Bacri
Un compositeur majeur de notre époque
Jacques Bonnaure, Classica, juin 2021
J'ai l'impression que si l'art a un devoir, c'est de rappeler à l'homme qu'il est un être spirituel, qu'il est porté par un esprit infiniment grand auquel, en fin de compte, il retourne
Andreï Tarkovski
Nous ne sommes pas des êtres humains vivant une expérience spirituelle mais des êtres spirituels vivant une expérience humaine
Pierre Teilhard de Chardin
Chercher à créer de la beauté est un acte d'amour
Frank Martin
I wish my art could help you to live more easily, to work more joyously, to love more deeply
D. Shostakovich
Obviously, Bacri is the most important french composer since Messiaen and Dutilleux...
John Borstlap, in "The Classical Revolution, Thoughts on new music in the 21st Century", Scarecrow Press, inc. 2012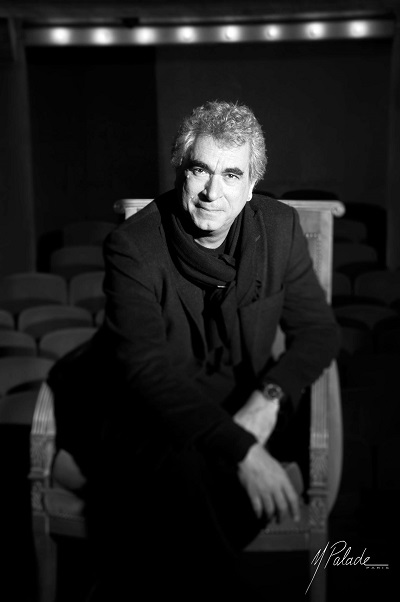 © Photo Olivier M. Palade, janvier 2017 mention obligatoire.
"One of France's most promising composers"
Roger Nichols, Gramophone
"(Bacri) is a composer capable of renewing an old-fashioned medium"
John Allison, The Times

"Parmi les compositeurs d'aujourd'hui refusant tout "conformisme" d'avant-garde et prônant un retour à la tonalité N. Bacri est certainement l'un des plus solides et des plus conséquents"
Patrick Szersnovicz, Le Monde de la musique
"C'est l'exemple d'une musique "simple" dont la matérialisation sonore révèle une complexité insoupçonnée"
Gérard Condé, in "Le quatuor à cordes en france de 1750 à nos jours", AFPM, Patrimoine
"Bacri est un maître orchestrateur mais il sait aussi organiser le dialogue, la libre conversation en musique: la joie qu'ont eue ses interprètes à créer son œuvre ne trompe pas"
Jacques Doucelin, Le Figaro

"En choisissant la néo-tonalité, Bacri me semble n'avoir nullement opté pour la facilité, tout le contraire. Exigeante sur le plan de l'écriture de manière à satisfaire les professionnels, sa musique parle très directement aux publics les plus vastes : c'était l'idéal même d'un Arthur Honegger, dont Bacri m'apparaît un peu comme un héritier spirituel"
Harry Halbreich
"Bacri est devenu l'un des représentants les plus importants sur le plan mondial de la composition en lien avec la tradition"
Christoph Schlueren, Crescendo (Allemagne)
'Bacri is undoubtedly one of the most interesting composers of our time, precisely because his music does not follow fashions and he does not get caught up in mathematical calculations of sound. Rather, Bacri is a composer who dares to write very expressive music that remains absolutely understandable, comprehensible and tangible for the listener, despite its modern language.'
Alain Steffen, Tageblatt Luxemburg
ARTICLE DE AUDE DE KERROS revue Contrepoints :
https://www.contrepoints.org/2019/05/22/344933-vous-melomane?fbclid=IwAR2_6oaf1kHZHR3IFF8FVeI1X_SzXKrQhzNyaISNkuOc8IWdaQqyGSGZz3s
Nicolas Bacri is an artistically restless composer driven to continuously question the goals of his art and his compositions habits, an attitude that has resulted in aesthetic choices that are consequences of carefully weighed musical reflection and practice (as opposed to the outcome of ideological presuppositions). This is particularly noticeable in his quartet production, which has yielded starkly contrasting works.
Bernard Fournier
Nicolas Bacri is one of the great composers of our time, and an expert on musical aesthetics, musical philosophy and theory, and a gifted writer on music, and a brilliant conductor of his own works. He is one of the leading composers of a renaissance of French music after the erosion of postwar modernist ideologies.
John BORSTLAP, author of "The Classical Revolution, Thoughts on new music in the 21st Century", Scarecrow Press, inc. 2012august 2016
Nicolas Bacri at Composers Villa (Torino, italia) English CV and list of works
http://www.villacomposers.org/composers/bacri-nicolas-1961-paris.php
TOUS LES DISQUES DE NICOLAS BACRI SONT CHEZ AMAZON
et sur FNAC.COM
https://www.fnac.com/SearchResult/ResultList.aspx?SCat=0%211&Search=nicolas+bacri&sft=1&sa=0
EVERY CD BY NICOLAS BACRI ARE AT AMAZON
https://www.amazon.fr/s/ref=nb_sb_noss?__mk_fr_FR=%C3%85M%C3%85%C5%BD%C3%95%C3%91&url=node%3D1322771031&fieldkeywords=nicolas+bacri+&rh=n%3A1322771031%2Ck%3Anicolas+bacri+
© 2003 Nicolas Bacri. Design par Clémentine Meyer et Wide Link PC. Mise à jour 2017 Céline Ferrer.